Our Urgent Needs & Goals
We recently produced a live broadcast to update our donors on our plans for 2023. In the broadcast, we shared the four areas we need to focus on for the continued growth of the University. Our four areas are:
Scholarships for incoming Students (Feb. starts the new year) - It takes $3,000 US dollars to put one student through an entire school year
Adding new curriculum for 6-week course development
Adding new curriculum for additional schools of study
Moving costs for the new campus location closer to the city
We pray that you might consider funding one of these four areas.
How You Can Help
Our need is pressing. We need your prayers and financial support to complete our campus and fund scholarships!
The Ebenezer Construction Project
Your financial support for The Ebenezer Construction project as well as our future building projects will ensure that we have the resources to establish permanent roots in Lusaka, operate with stability and provide safe, comfortable facilities for all of our students for years to come.
(PRE)PHASE ONE FUNDING TARGET: $239,000
Road Construction
Environmental Project Brief
Prospecting for Water
Phase 1 Fencing
Drilling and Plumbing
Permission Fees
Electric
Leveling Ground/Landscaping
Transport of Storage Containers
Student Scholarships
Your financial support for our student scholarships will ensure that we can provide a high-quality education to as many students as possible - as well as create a springboard for positive, long-lasting community development and cultural transformation.
Donate
Join US IN MAKING A DIFFERENCE IN AFRICAN LIVES FOR THE CAUSE OF CHRIST!
We want to thank everyone who has been partnering and supporting us through ongoing donations. If you are not able to give currently, please pray with us as we watch the Lord do amazing things!
About Us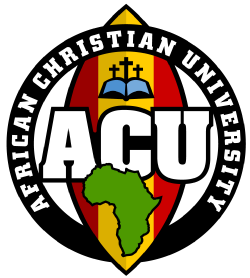 The African Christian University is a liberal arts college located in southern Africa - east of Zambia's capital city, Lusaka. Our mission is to glorify God by offering an excellent, innovative academic experience as well as by providing training that is stewardship-oriented, based in a biblical worldview and truly African.